Cáceres

Municipalities: 219
Surface: 20.000 square kilometres
Inhabitants: 405.600 people
Average temperature: 16ºC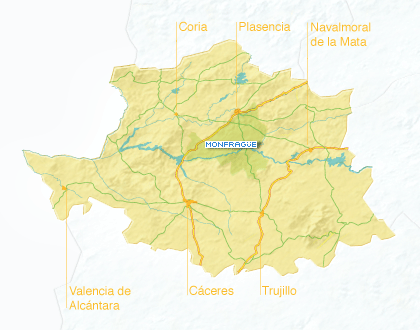 Cáceres

The Province of Cáceres combines, as just a few zones of Spain do, the mildness of a natural environment of extraordinary value and perfectly preserved with an amazing historical past, crystallized in the patrimonial richness that makes out of it one
The nature of Cáceres hides unpolluted corners, a true ecological paradises where the adventure of discovering them is still a delight to senses. The National Park of Monfragüe, the "Garganta de los Infiernos" or the "Barruecos" are only some of the proposals of a friendly land and welcoming people who gives visitors the best of themselves.
Una tradición, los empalaos de la Vera
The requested information will be soon available
Lodging

Hotel Cañada Real
Hotel Cañada Real
EX-108 Km 42 CP. 10680
Malpartida de Plasencia, Cáceres
Tel.: 927 459 407
Fax: 927 459 434
Airport
Train Station

Estación de Ferrocarril de Cáceres
Avda. de Alemania s/n.
Tel. 927 23 50 61
10001 Cáceres
Bus station

Estación de Autobuses de Cáceres
Ctra. Gijón-Sevilla, s/n.
Tel. 927 232 550
10005 Cáceres
Destinations of Cáceres
Natural Territory
The Natural Park of Monfragüe is the greatest environmental treasure of
Extremadura, and has been declared Biosphere Reserve.
Plasencia, La perla del Valle
Cáceres
Agroturismo en Extremadura y Alentejo
Deméter supone un nexo de unión entre los territorios participantes: Extremadura, Alentejo (Alto, Central y Bajo) y Beira Interior Sul.
Montánchez
Montánchez (Cáceres) is the centre of this route. An ancient town that dates back to the Bronze Age, the tradition of curing hams also goes back centuries, with historic references since 1236. Tradition tells that Carlos V, when he retired to Yuste,
More information

Ornithological Tourism
The Natural Park of Monfragüe is one of the most attractive spaces for the practice of birdwatching.

Cultures Mosaic
Cáceres is a mosaic of civilizations and races since centuries.

Monuments wealthness
As a result of its agitated history the monumental cities of the province are true outdoor museums , with the capital Cáceres as its best exponent.
Recommended


Granadilla


Valle del Ambroz


Las Hurdes


Valencia de Alcántara


Valencia de Alcántara


Los Barruecos


Sierra de Gata