Badajoz

Municipalities: 163
Surface: 21.766 square kilometres
Inhabitants: 663.896 people
Average temperature: 18ºC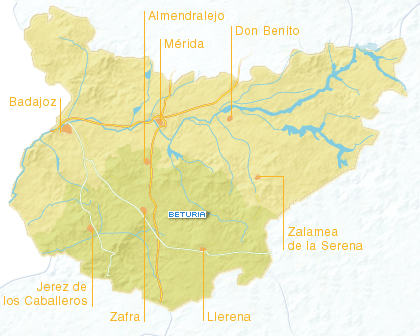 Highlight Routes
Destino:
Monumental route through Beturia

Vía de la Plata

That crosses this destination from north to south, crossing the fertile prairies of Tierra de Barros, the heterogeneous landscape of Zafra-Río Bodión and the spectacular meadows of Tentudía.

Route through the Nature of Beturia

Turismo Ornitológico

Ornithological Tourism
The ZEPA Campiña Sur-Embalse Arroyo Conejos, the ZEPA Sierras de Jerez, ideal enclaves for the sighting of cranes and wintering period zone of steppe birds (bustards or little bustards).
Badajoz

Badajoz is the most extensive province of Spain. Crossed by the Guadiana river, it has been since prehistory until the period from the last decade of the 15th century up until the French revolution, a land where all cultures and important peoples hav
Its situation closed o the Atlantic Ocean but influenced by a Mediterranean climate, makes it a privileged place in which meadows, valleys and mountain ranges a wide number of protected, indigenous species live and other migratory species settle in the big humid spots of meadows and extensive marshes and reservoirs.
Destinations of Badajoz
Celtic and Templar Lands
In the south of Badajoz, the lands of Beturia, once dwelled by the mythical Celtic people, is presented today as an integral destination with multiple proposals for the concerned traveler.
Agroturismo en Extremadura y Alentejo
Deméter supone un nexo de unión entre los territorios participantes: Extremadura, Alentejo (Alto, Central y Bajo) y Beira Interior Sul.
Badajoz en la Ruta del Jamón Ibérico
Monesterio and Jerez de los Caballeros are production centres of Iberian ham from the dehesas of Extremadura in Badajoz that cover a large and varied geographic area.
Recommended