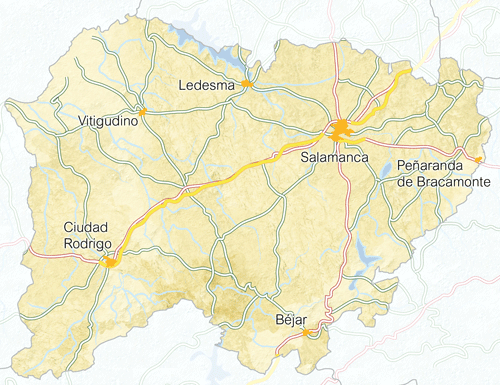 Salamanca

Salamanca is the university city by excellence, known in the whole world for this and for its artistic richness: cathedrals, palaces, churches... of artistic styles such as romanesque, gothic, plateresque y barroque.
Situated on the banks of the river Tormes, its geographical extensión is 12.336 Km², and It currently has 159.000 inhabitants.
Salamanca, in spite of its extreme weather (cold and dry winter and warm summer), has many charms which make the stay of those who visit it a very pleasant one, a city where those activities related to tourism and free time are essential. Salamanca was the European City of Culture in the year. Music, dancing, exhibitions, street shows... the Calendar of events of Salamanca 2002 ranged from the latest cultural tendencies To the purest enterntainment.
The tourism is Salamanca is complemented by its original gastronomy and its popular festivities.
Destinations of Salamanca
Guijuelo
The centre of the Iberian ham industry in this district is Guijuelo, a town with around 6 000 inhabitants, roughly three quarters of the population work in the meat industry. There are at least 50 businesses and 300 brand names of ham. There is a Mus